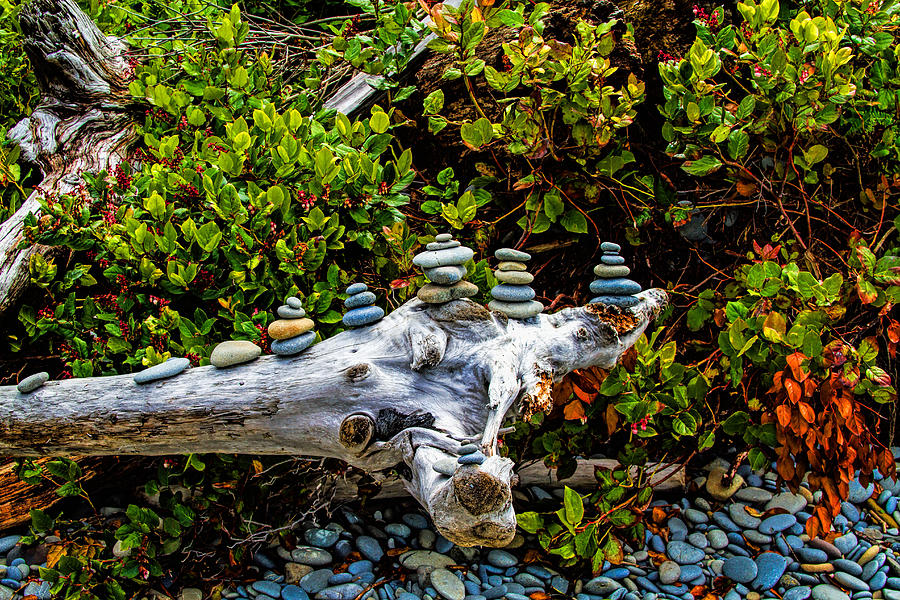 Medium
Photograph - Photography
Description
The driftwood laying along this rocky beach was covered with many small rock cairns. This was taken in Olympic National Park in Washington state in early summer.

This image has been FEATURED in the following groups:

Women Photographers One a Day 09-30-2015

Bath and Spa Prints 12-06-2015

Uplifting Art 1 per day 12-06-2015

WHAT Interroband 1 a day 12-06-2015

10 Plus 12-12-2015

Images That Excite You 12-12-2015

Tranquility 12-15-2015

Wisconsin Flowers and Scenery 12-20-2015

All Seasons Photography Only-One per day 01-01-2016

World Landscape Lovers of Art 01-05-2016

Arts Fantastic World 01-13-2016

The World We See Group 01-18-2016

Forward exposure 01-20-2016

All Art Welcome 01-22-2016

Amazing Colors of Nature 02-15-2016

Artist News 03-16-2016

500 Views Share Group 03-22-2016

Beauty 03-22-2016

500 Views-1 Image per Day 03-25-2016

Lady Photographers and Artists 04-16-2016

Seen But Not Noticed 08-13-2016

Ardent Essence of Your Soul 12-28-2016

Artists Cards Fine Art Greeting Cards 03-07-2017

Your Very Best Photography 03-22-2017

Fine Arts Professionals 05-12-2017

500 and Beyond Fine Art Group 06-02-2017

HDR Photography 09-11-2017

Contemporary 09-19-2017

USA Photographers Only 07-01-2018

Magical Art 10-06-2018

This image was a "Top Finisher" in the on line contest SUMMER NATURE sponsored by the group Imagination-Artistry-Creativity on 07-02-2017.

This image was a top finisher in the on line contest BLACK FRIDAY CHRISTMAS CONTEST sponsored by the group 1000 Views on 11-28-2019.
Statistics
Viewed 3,423 Times - Last Visitor from Beverly Hills, CA on 03/31/2020 at 5:32 PM