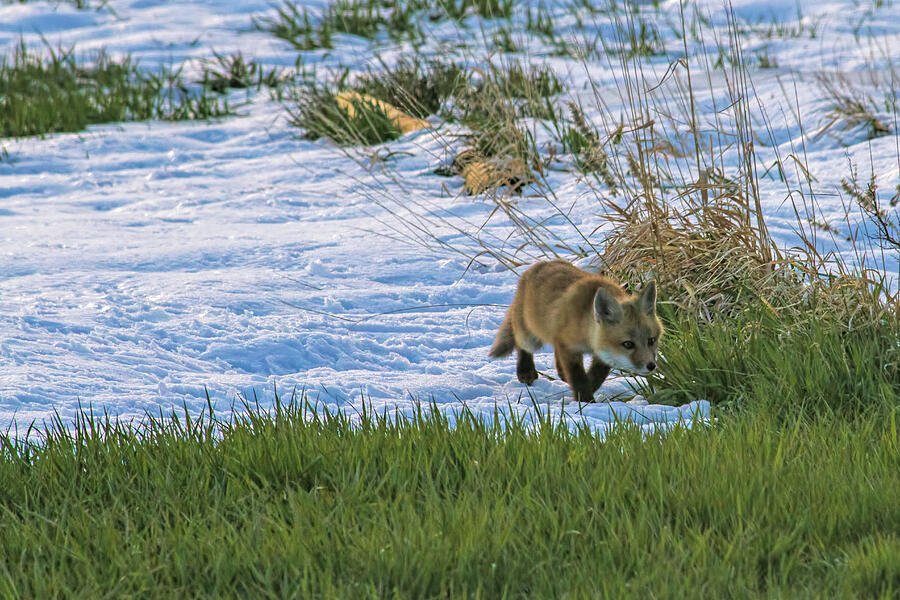 Medium
Photograph - Photography
Description
This cute little red fox kit is honing its hunting skills by stalking its siblings. It is early May and there is still snow here in the higher elevations of Colorado. In a month or less this little guy will be mostly grown up and hunting for himself in earnest.

The red fox, largest of the true foxes, has the greatest geographic range of all members of the Carnivora order, being present across the entire Northern Hemisphere from the Arctic Circle to North Africa, North America and Eurasia. Wikipedia
Scientific name: Vulpes vulpes
Mass: 4.9 – 31 lbs (Adult)
Trophic level: Omnivorous
Lifespan: 2 – 5 years (In the wild)
Height: 14 – 20 in. (Adult, At Shoulder)

This image has been FEATURED in the following groups:

All Natural Beauty of This World 11-24-2017

Monthly Themed-November Theme-Giving Thanks 11-29-2017

Wildlife ONE A DAY 11-30-2017

Photography and Nature 101 12-07-2017

Animal Photographs 12-23-2017

No Place Like Home 02-07-2018

USA Photographers 03-27-2018

Our 4-Legged Friends 04-04-2018

KINGDOM Animalia 04-14-2018

Lady Photographers And Artists 02-01-2019

Art Submissions to PKA 11-19-2019

Images That Excite You 12-12-2019

10 Plus 12-16-2019

The Space Between 12-18-2019

Snow-Ice-Frost Including Mountain Tops 01-28-2020

This image was the "Baby Animals" photo of the day on the USA Photographers group home page for 3/27/18!
Uploaded
November 19th, 2017
Statistics
Viewed 4,108 Times - Last Visitor from New York, NY on 04/01/2020 at 7:48 PM